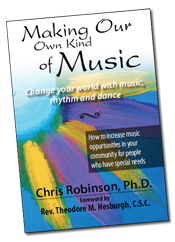 The Foundation for Music and Healing, Inc. is a non-profit, community based organization which seeks to provide the benefits of music to those who never thought it possible.
Making Our Own Kind of Music is for people who love music and want to share it with those who can benefit the most. The book gives details of how music, rhythm and movement can be introduced in new ways to those who never thought it possible, especially people who have special needs.
This is a one-of-a-kind book that gives hope to students, parents and caregivers with specific examples and general principles presented in an interesting and easy-to-read style.
Readers will derive hope from this volume. It is presented in the midst of continuous and in-depth media coverage that frequently recommends music for people who have Autism, Asperger's Syndrome, Down Syndrome, Cerebral Palsy, Spina Bifida, stroke, physical and emotional impairments, blindness, deafness, ADHD, learning disabilities, cognitive impairments or any other type of special need. This useful book is designed to help people develop unique music and movement strategies to help meet these needs.